So you've picked out your movies for the night, and you know exactly which order plan to watch them, but you're not sure of what snacks to have with them. Does this sound familiar? I know I've been there a lot myself.
Movies
are one of my favorite things as I watch quite a lot of them. Sometimes I want to get something sweet or something salty, and other times I want something that is a little bit of both.
Popcorn is one of the most common go to snacks for watching movies, even for me. Recently, I was looking up some unique popcorn recipes and I found some that sounded absolutely delicious. Can we say cinnamon toast popcorn (pictured below) anyone?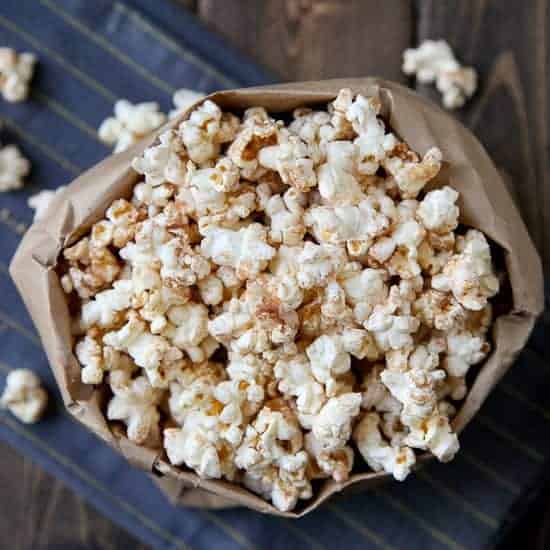 Not only that but I found another that sounded even more delicious, especially for the fall season. Maple Pumpkin Spice Popcorn (pictured below). This one sounded like it would not only be a little bit of sweet but would have a tang to it with the pumpkin flavoring.
Aside from popcorn there are many other outstanding movie snack recipes that are available. Some more of my favorites include a yummy DIY candy necklace, which is great for kids and adults to make the night of the movie using their favorite snacks.
I also really like the idea of Frosted Animal Cookie Muddy Buddies. As a fan of delicious frosted animal crackers, I can't wait to try this recipe for a movie night. It looks absolutely delicious, and would surely satisfy my sweet tooth.
Smore's are almost always a hit when it comes to campfires, so why not during a movie night too? I found this delicious recipe for a makeshift Smore's Snack Mix that would be PERFECT for a movie night! If you're not feeling the smore mix there is also a more delicious cookie options. The cookie mix pictured below is another snack that will surely knock your socks off during the movies.
For a more healthy choice movie fans can try out some fruit or vegetable snacks instead. For example there are the yummy grape caterpillars that look super tasty as well as these delicious kale chips (pictured below).
Not only are those but here two more healthier options for movie snacks.
So no matter what types of snacks you like for movie night, there are always more and more to try. Each of the above were found online and offer their own unique tastes. Bon Appetite
What's your favorite movie night snack?