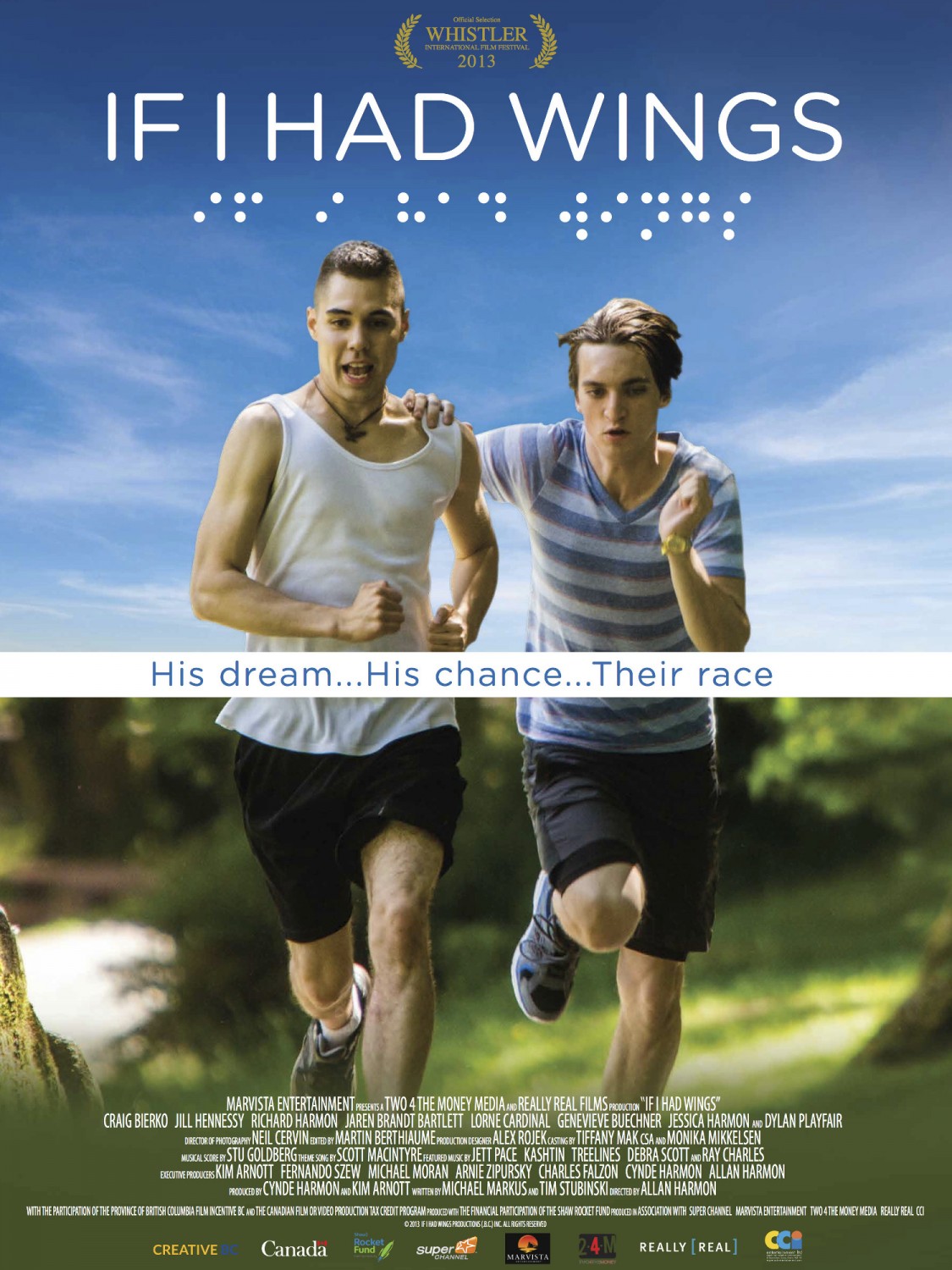 If I Had Wings

(2013)
Rated: PG
Time: 89 min
Genre: Family. Drama
Alex Taylor (
Richard Harmon) has his own dreams of flying, but he also dreams of running for his high school's cross-country track team. While Alex may have what seem to be normal dreams, they are quite different in fact. His dreams may seem obtainable to most because Alex has been blind since the age of 2. Feeling the his body and mind are up for more of a challenge, he keeps his hopes up of joining the team.
While his father trains along side of him, the two notice their times are quite different as are their skill levels. With a little idea and a strike of luck, Officer Geoff Taylor finds a young boy, Brad, Coleman (Jaren Brandt Bartlett) who can run along side his son. Little does he know, the two will form a bond that is beyond that of two boys achieving their goals. With their growing friendship, the two become even better running teammates.
View the trailer for If I had Wings below by simply clicking the video.
For me, this movie tugged at all of my personal heart strings. Those readers I have may not know this about me, but I'm actually on the borderline of being legally blind myself. Truthfully, there is a lot about my eye sight that people don't really understand unless they too have a vision problem. When I was younger I had help from wonderful people that provided services to those with this impairment. NO, I will not use the
D WORD
(
DIS
ability - in case you don't know what that was) Of course I'll admit I didn't always like it, heck I still don't like to admit I can't see things, but hey why not I am starting to embrace it.
After reading the description of If I had Wings, I knew that it would be a film i could instantly relate to, and enjoy. The entire movie made me think of things I felt the same way Alex did about. Sometime, it's a pain to know you really want something and that your blindness is almost always something people see as a thing holding people back. The truth is, with this film, it brought the message across that blindness will not deter those who truly have faith in themselves and in their dreams. With a little bit of support, faith and true friendship, anything is possible.
I love movies that are heartfelt and really straight forward in leaving viewers with a positive message. I feel like this movie, and though there is much contreversay on this, God's Not Dead, are great films. Over all I give this movie a top notch score.
More Movie Reviews: CLICK HERE
For more information on services to the blind please visit The Society of the Blind.